Salem, OR — With E3 in full effect this week, EA has released more info regarding the upcoming Madden NFL 20 game. Below is the latest post from EA SPORTS Accessibility Lead Karen Stevens.
Accessibility options can be reached via the main menu.
Many have asked about Madden NFL 20's accessibility options on Twitter.  Here's a run down of what will be available for you to try at EA Play on June 8 and 9. Keep in mind that these images are all directly taken from the demo available at EA Play, and the game itself is still a work in progress. The final game will vary from these images, but the features covered here will be in the game at launch. Some options on menus will appear grayed-out in the screen captures below, as the EA Play demo restricts game options available during the event.



As always, all accessibility features are optional, and none have been implemented at the cost of the standard gameplay experience. We believe gaming should be for everyone, and we support inclusion for all of our gamers.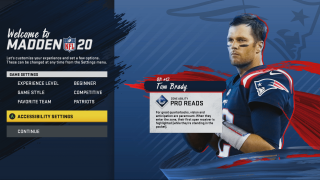 Accessibility options are now available on the game's first launch, via the new welcome screen.
The dedicated accessibilty menu, as introduced in Madden NFL 19, is now easier than ever to access, and includes options for new features. As in Madden NFL 19, the accessibility menu can be accessed via the main menu, settings menus, and the pause menus. In addition, it can now be accessed the first time the game launches via a new welcome screen, so it's possible to adjust settings before starting any game play.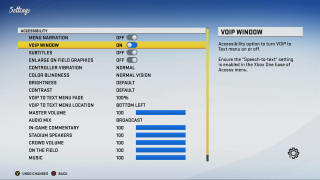 Accessibility settings have their own menu, as added in Madden NFL 19.
Madden NFL 20 carries forward accessibility features from previous Madden NFL games, including those covered in a previous Madden NFL 17 accessibility article. Brightness, contrast, colorblind options, and enlarging on field graphics will all continue to be supported.
Assistive controller vibrations, as introduced during Madden NFL 18, are all still supported. In addition, it's now possible to turn off all controller vibrations in game, without the need to change them at the system level.
Audio options also continue to be duplicated in the accessibility menu, as they were in Madden NFL 19. This means audio options can also be adjusted via the new welcome screen.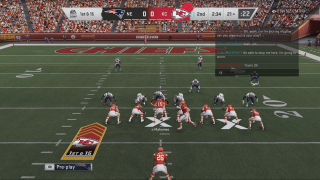 Game chat now has speech transcription and captioning options, available regionally.
Madden NFL 20 adds in text-to-speech and speech-to-text functionality to game chat, which will be available at launch in select regions. This feature allows multi-way chat that supports both text entered via an in-game keyboard, and also words spoken via microphone. There are options to transcribe and display the text of spoken words, and also options to narrate words sent via text.
The chat window has a few convivence options. Displaying the window is entirely optional. It also supports various levels of transparency, so you can decide how visible you'd like the window to be. It also supports a variety of locations, which allows you to move the chat window to where you feel the most comfortable.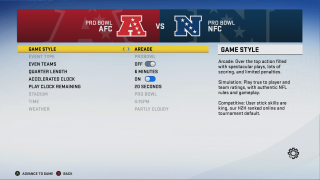 Most of the front-end game menus support menu narration, including all settings available when creating a game.
While Madden NFL 19 supported narration on the top-level menu, Madden NFL 20 takes this concept much deeper. Menu narration is supported on all platforms and is available both online and offline.
To have menu narration be the best experience possible, the team hired a totally blind Madden NFL gamer as a consultant, to gain his valuable input. The team chose to implement menu narration at the lowest possible level in the game, so nearly anything based on common UI widgets came along for the ride. This means that most of the front-end menus in the game are narrated, although there are still some gaps in coverage.
Many things can now be audibly accessed without the need of a guide. This covers access to all accessibility settings, including from the welcome screen. It's now simple to pick what team you'd like to use. It's possible to invite your friends to play online games. You'll be able to create and manage franchise games. All exhibition game options can now easily be changed prior to starting a game.
There's currently an in-game technical limitation on narrated menus. To preserve the quality of the game for everyone, we had to significantly reduce this feature in game.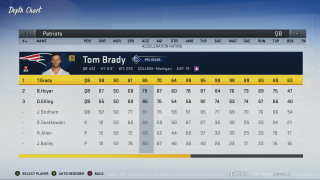 Some more complex UI, such as the depth chart, also support detailed narration.
There are also some gaps in front-end coverage, and I'll use an example that we've already fixed to better explain. Since menu narration was implemented deeply in the system, by default nearly all UI automatically said something, but not all the audio coverage was immediately useful. For example, the depth chart, as shown in the above image, audibly said "spreadsheet" when this feature was turned on. This is accurate, but not very useful. We had to go in and add additional hooks so it's now possible to navigate all rows and columns in the depth chart, and audibly hear all values in it. Note, player ratings will vary in the final game.
We decided that the value of having wide-spread coverage outweighed any potential drawbacks of less-than-useful audio in edge cases, so expect certain things, like Madden Ultimate Team items, to not have useful audio at launch. However, this does mean that at least some UI will be accessible in all front-end modes, even if certain widgets lack coverage.