Salem, OR — Franchise mode supporters in the Madden community have endured several discouraging years, but now EA is finally demonstrating the mode has undergone major, noticeable, and hopeful upgrades.
FREE AGENCY
One of the most important elements of NFL team construction is free agency. One decision may alter the NFL's whole picture since players and organizations are always haggling. EA concentrated on creating mechanisms in Madden NFL 23 to let players experience the thrill and strategy of this part of the NFL season. When attempting to assemble the ideal team, there is a completely new dynamic to interact with, including completely new screens, additional assessment periods, player incentives, and enhanced salary cap functions.



New Free Agent Hub
With Madden NFL 23, the Offseason Free Agency Hub will receive a complete aesthetic makeover. An focus is being placed on maintaining information's clarity and accessibility inside the new Hub as well as enhancing the experience's flow quality. As you browse through all of the players who are actively seeking new clubs in free agency, the player's specifics, how your team complements their motivations, and the interest from other teams are front and center.
EA has also included two new features to assist with Free Agency redesign in addition to the new Free Agency Hub screen: Evaluations and active negotiation. In the NFL, Free Agency is a flurry of activity with clubs and players discussing contracts as soon as they are permitted to do so. There is typically a lot of back and forth between athletes and the several organizations vying to sign them before they decide who they will sign with.
EA is implementing the Active Negotiations tool in Madden NFL 23 to enhance a sense of pressure. Each team will only be permitted to extend a contract to a maximum of five players during each Evaluation Period during the initial free agency period. This will make it more difficult for a select group of teams to quickly sign all the best free agents. Additionally, it's no longer simply about the money, you will need to be selective about the players you make offers to during the initial stage of free agency since you won't be able to pursue everyone you desire. You can make up to 10 offers to players during each evaluation session in Stage 2 of free agency, and you have an unlimited number of offers to make to the remaining free agents in Stage 3.
While initially more constrictive, the second feature, Evaluations, makes up for it. Three Eval Offers may be offered during each week of free agency; when one is made, all offers are run, enabling players to accept, refuse, or postpone making a final choice without the need to advance the week. This will offer each club additional chances to exchange ideas with a player during negotiations and/or give you the option to alter course if you hear from the player that you're not his preferred choice. You must pay special attention to every aspect that affects a player's decision over where to sign. EA intends to make one of the most important components of the offseason a more strategic and fulfilling experience with the more information, smoother flows, and combination of constraint and opportunity.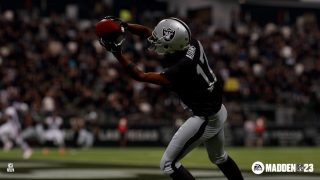 Player Motivations
In past games, players merely signed with the organizations paying the highest salaries. Each player now has three motivations that describe the kind of team they want to be a part of. These factors might include things like geography, coach reputation, squad makeup, and more. All players will start off with a set of three motivations, but when a player remains with a Franchise for one additional year, these motivations may change to better suit their present circumstances.
Below is a breakdown of the Player Motivations you can expect to see:
Super Bowl Chase
Evaluated throughout the season, the teams in position to contend for the Super Bowl will be the prime destination for these players.
Ex. Von Miller, Buffalo Bills.
Historic Championships
A priority toward Franchises with a winning culture that has shown their ability to bring home the Lombardi trophy over time.
Head Coach Historic Record
Top-tier coaches that have proven their contribution to winning games will better recruit players to come on board.
Scheme Fit
Players will look to match the team's offensive or defensive Scheme to best showcase their talent on the field.
Top the Depth Chart
These players are looking to be starters at their position, plain and simple.
Team Has Franchise QB
Taking the field with an elite Quarterback is a dream to many. If your QB has the "Franchise QB" Player Tag, they'll be helping you bring these players into the mix.
Ex. Russell Gage, Tampa Bay Buccaneers.
Mentor at Position
Developing players can look to find their mentor to help them break through to the next level. They want to see a player on your team at their position with the "Mentor" Player Tag.
Close to Home
Does your city bring a player close to his family? The distance between your stadium and a player's Home state can be a big draw.
Ex. Jarvis Landry, New Orleans Saints.
Big Market
Opportunities off the field can be as appealing as those on. Big Market players are looking to showcase themselves in the largest cities in the world.
Tax Free State
Paydays aren't always the same when taxes are involved. Teams in states with no income tax provide an extra incentive for some.
Warm Weather State
Sun and fun. States that stay warm throughout the winter will be welcoming to these players.
Highest Offer
Sometimes it is all about the money. Players will think less of how you fit their interests and are simply looking for the biggest deal.
How your team aligns with the motivation of a player sets their overall Interest in your team. This Interest factors heavily in contract negotiations. A player with no Interest in your team would require massive financial compensation to consider signing, while a player who perfectly aligns with your Franchise may take a pay cut to guarantee you bring them aboard.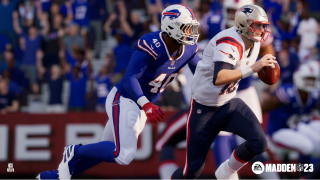 Player Tags
Many players have roles on a team that exceeds their direct positions and assignments. Tags add a new layer to how these players fit with their team, bringing unique effects that not only apply to the team but also to teammates and the player themselves. Player Tags are dynamic, updating weekly; how the players, teams, and league progress will all impact roles across your Franchise.
Look for the following Tags to see how your players fit the landscape of the league:
Award Winner
Players who have won yearly awards will draw more interest during Free Agency, creating heated competition to land the biggest available names.
Franchise QB
The top QBs and those poised to take the league by storm will hold a prized position with their team. Not only will they appeal to certain Motivations, teams will not look to replace them via Free Agency or the Draft.
Bridge QB
Journeyman Quarterbacks fill the most important role for a team. These players will keep the seat warm as the team looks to Draft the next heir to the throne.
QB of the Future
Recently drafted and ready to take the reins. These Quarterbacks will be given starting roles as they get close in OVR to the current starter.
Day 1 Starter
Elite players ready to make a difference on the field the moment they are drafted. They will be given starter priority and will secure their position, causing the team to look elsewhere in future Drafts.
Future Starter
These developing players have high ceilings, but may not be ready to play right away. While they wait for their turn to start, they will gain extra XP during Weekly Training.
Bridge Player
Filling in the gaps across the roster, these players will either allow for split time with up-and-comers or signal the need for the team to upgrade this position in the Draft.
Mentor
Veteran leadership cannot be understated. Weekly Training XP boosts will be given to all players that share a position with a Mentor.
Ex. Bobby Wagner, Los Angeles Rams.
Trade Target
Whether a young player without a realistic shot at a starting spot or a veteran without a needed hole to fill, these players will be placed on the team's Trade Block in search of a better fit.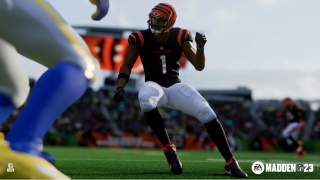 New Contract Negotiation Screen
During the re-signing and free agency seasons, creating the ideal contract is essential to strengthening your team. To emphasize critical information and make presenting deals simpler than ever, EA updated the Contract Negotiation page as part of their recently announced Motivations system.
An analysis of a player's motivations, including their general interest in your organization, an annual breakdown of the offer, and depth chart data for that position are all new pieces of information.
There will be 4 new preset offers that you may select from, including Team Friendly, Neutral, Player Friendly, and Very Player Friendly, in addition to the ability to create a Custom Contract offer. This makes it simple to provide a variety of contracts without having to manually enter the numbers.
Rollover Cap
Most fans may not be aware of all the intricate details of the NFL Salary Cap laws. This year, we added a feature known as the "Rollover Cap." Due to the flexibility to roll over unused cap money from one year to the next, clubs with low total wages may make significant offseason purchases.
FRANCHISE HUB
Every franchise player is aware that time spent off the field may be just as important as time spent on it. Because of this, EA wanted to make the franchise hub seem closer to your club. As a result, the background now includes both your team's primary color and logo whether you're at the main hub, modifying your depth chart, or searching the trade block.
Streamlined Activity Feed
The Activity List could at times appear to be too much. EA made it  a priority to make this important component of the Hub easier to utilize in Madden NFL 23. Spam has been cut down, text has been made shorter, and brand-new symbols have been created to make each action stand out. Finally, EA made user's activity stream as navigable as possible to help users go where you need to go.
Improved Usability
The typeface itself is a sometimes disregarded part of how simple a menu system is to operate. New typefaces have been added across the Franchise to enhance reading and, consequently, the usefulness of all functions. This quality of life enhancement is pervasive since there are so many screens in use.
SCOUTING
Since fully overhauling Scouting in Madden 22 with a post-launch Title Update, EA has gotten tons of positive feedback. The input they received this year is what motivated all of their Scouting changes.
Scout Updates
In Madden 23, more than 50 scouts were added, tripling the amount of free agency scouts from 50 to 100 and bringing the total to 260. Additionally, EA has made sure that every position has at least one scout with that specific specialization in each tier. Each position grouping is covered by many scouts at each tier, with a few exceptions.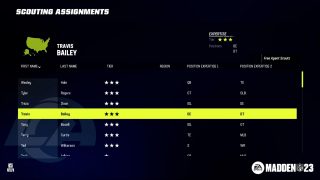 Updates have also been sent to team scouts. With the higher tier scouts reflecting the greater demands, each scout assigned to a team now represents the needs of that team.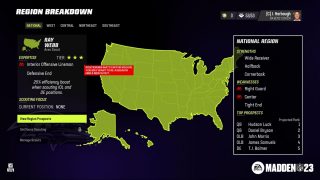 Scout Multiple Positions at Each Stage
Focus Scouting was only available for a select few positions in Madden 22, and the information provided on a draft class was insufficient to enable you to make informed choices. This year, EA combined players in comparable positions into one group so that users who are Focus Scouting would get information on all of the players in that group rather than just one. They are as follows:
RB: Running Backs (Halfbacks and Fullbacks)
OT: Offensive Tackles (Left Tackles and Right Tackles)
IOL: Interior Offensive Linemen (Left Guards, Centers and Right Guards)
DE: Defensive Ends (Left Ends and Right Ends)
OLB: Outside Linebackers (Left Outside Linebackers and Right Outside Linebackers)
S: Safeties (Free Safeties and Strong Safeties)
Attribute Reveal Improvements
Regarding the release of information for college prospects, one of the most significant pieces of feedback EA received with the scouting update from the previous year. It was completely random and frequently left users guessing as to the characteristics they would care about most for a certain possibility. Based on user input, EA made a number of changes to those reveals to provide players with the information they desire more quickly and to leave less of the future's possibilities unknown while still keeping some surprise.
In comparison to Madden 22, EA has drastically boosted the weight of reveals in favor of core qualities, increasing the likelihood that an attribute disclosure will be a core trait as opposed to a secondary feature.
Additionally, any unidentified characteristics will change from a question mark to a three-letter range once users have scouted a potential to 50% of their satisfaction. Any remaining three-letter ranges will change into a two-letter range as users continue to learn more about a player and achieve 70 percent scouted.
Draft Class Improvements
In Madden NFL 23, the draft classes have undergone a major revamp. Every historical prospect template underwent a thorough tuning run, and all of them have been changed to make the prospects and classes more consistent with how their real-life counterparts normally enter games. EA has included over 30 entirely new templates in addition to existing prospect templates. These templates include, among others:
Generational Prospects
Generationals are exactly what they sound like. These models are based on once-in-a-generation prospects who completely dominate the league. These players will be ranked extremely highly by prospect standards when they enter the league and will also have an X-Factor DEV characteristic as a given. These guys will be difficult to uncover but definitely worth the search because they have the lowest likelihood of generating out of all of EA's templates.
99 Club Prospects
These players won't be among the top 99 overall. Players that are 99 Club Prospects will bring a superior skill to the NFL. These players are supposed to be entertaining while still being a little bit realistic. As a result, you won't see any players entering the league with pass accuracy or awareness ratings of 99. However, you may come across a quarterback with 99 throw power, a receiver with 99 spectacular catches, or a safety with 99 hit power. But just because someone is good at something doesn't imply they'll be exceptional players.
High Variance Prospects
True boom or bust possibilities are those with high variability. These prospects' intangible qualities have broader than average ranges, which makes their OVR more volatile. The same reasoning applies to their DEV attribute, where EA has effectively given these players a 50/50 chance of being either Normal or Superstar with a very little possibility of becoming Star or Superstar X-Factor.
Specialist Prospects
Specialist Prospects are athletes that think outside the box, deviate from the mold of our standard archetypal prospects, and either are exceptional at their position or have a particular area of expertise. These possibilities include play-action-oriented quarterbacks, undersized edge and interior rushers, and linebackers who excel at stopping the run or in pass coverage but not much else.
IMMERSION AND TUNING
Draft and Trade Logic
Draft and Trade Logic in Madden 23 came into focus with the addition of new elements. Significant progress has been achieved in both systems' ability to make judgments that are both genuine and intelligent. While the edges have been softened, a foundation has also been laid that will permit further development in these areas. EA concentrated on resolving immersion-breaking scenarios using the Player Tags feature in conjunction with this enhanced logic. Teams will now, for instance, aim to pick a position of need when they have a Franchise QB or QB of the Future on their squad.
Awards Tuning
Most Valuable Player, Offensive and Defensive Player of the Year, Offensive and Defensive Rookie of the Year, Best Quarterback, Best Offensive Lineman, and Best Kicker are just a few of the awards whose reasoning has been fine-tuned. This tuning pass's objective was to make sure that the most deserved players were receiving each of these honors.
DEV Trait Progression and Regression
EA has changed the rationale behind a number of prizes and how they relate to a player's DEV characteristic growth. A player will now always see a rise in DEV trait if he receives an award and has a Normal DEV trait. A guaranteed DEV trait boost is now also given to players who win the offensive or defensive Rookie of the Year title or who are first-time winners of the Best OL and Best K honors.
Immediate Offers in Trades
Madden trades have not benefited casual NFL fans. A manual trial and error method stymied a pleasant and exciting encounter. Finding the best bargain available was quite difficult without prior understanding of value and depth. The construction of a Trade now only requires one side. An option that will automatically construct a list of alternatives from CPU controlled teams for the player to pick from is offered once you've decided who you want to obtain or who you'd want to send away. All possibilities are at your fingertips, whether you're looking to learn what it will take to land your favorite player or how much worth one of yours has.
Will it deliver?
With all the changes mentioned above looks like EA is finally ready to deliver on what it has promised for years, a franchise that has depth again and will satisfy both the casual gamers as well as the more hardcore players.
On August 19, Madden NFL 23 will be made available. Before August 18, fans may pre-order the Madden NFL 23 All Madden Edition and get a number of perks, such as 3-day early access, 4600 Madden Points, a dual entitlement to an upgrade to the PlayStation 5 or Xbox Series X edition, exclusive early access challenges, and more.